In my most recent update post, I shared that I was currently entertaining three guys. Welp, my hoetation has been cut down from three to one.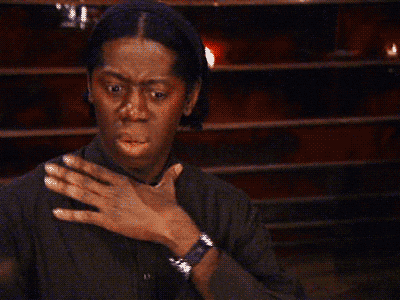 Teddy was the first bachelor to get axed. Why do you ask? Well, the baby mentioned in the post where I introduced him proved to be Teddy's son. Even if I was interested in dating someone with children, the conversation we had about children rubbed me the wrong way. We were having a 21 questions, trying to get to know everything about you kind of conversation. I threw out the "do you have any children" question and "yeah, I have a son. you?" I let him know that I didn't have any children and asked him how old his son was. His reply? "My son is a baby, but enough about that." WAYMENT! Excuse me? How does one just brush their child off like that? Like most dads, who are proud to be one, would've at least referred to their child by his name. Another thing that concerned me was that  this man's son appeared to be under 6-months-old. Either you left the mother of your child while she was pregnant, or you were out here sticking anything moving and got caught up. Either way, I don't have the time for that nonsense. We wound up texting back and forth for a few mins afterwards but once that conversation ended that was the end of that.
Next up, there's CT. We were speaking almost daily after my introductory post. He started gaining cool points and was hella complimentary. Surprisingly I was comfortable with that. We decided that we'd link at a bar we both frequented in Brooklyn (ironically I'd confirmed a date at the same place with Curve a few days before CT and I) and everything seemed to be cool UNTIL I started getting ready for the date. He hit me up like, "I've got an emergency, we may have to reschedule." Life happens, so I'm totally fine with rescheduling. I told him to give me a heads up as soon as he could b/c I'd have to leave my house at a certain time to meet him there. He said he would and that was the end of the conversation.
I went to brunch with one of my cousins the following day, and she told me that I should at least reach out to him and make sure he's okay. I didn't disagree. How evil would I be knowing someone had an emergency and didn't bother to see if they were okay? So I reached out really simple like, "hey, just making sure everything's cool since you mentioned having an emergency." YALL! This man has YET to reply to my text. So you know what that means DELETE! DELTE! DELETE! Lol! In my opinion there's no real comeback for that. Like in the most extreme circumstances, you could've at least hit me back like "Thanks" without giving any detail of what's going on, but radio silence? That's trash and corny AF IMO.
But anywho, on to the last man standing, Curve. We're supposed to be going on a date tonight. I haven't been on a date since my last night out with Cross in December so I'm excited to see how it goes. I just hope my work schedule doesn't interfere with me getting there on time. And of course, I'll be updating you guys with tea on the date sometime this week.
Until next time,